It brings us so much joy at Touched by Olivia to be able to expand the Livvi's Place National Network.

Earlier this year, we opened Livvi's Place Ryde and it has become a favourite for people of all ages and abilities in the northern districts of Sydney, and beyond.

Over 3000 people visit Livvi's Place every week - mothers groups, birthday parties, respite carers, local schools. You'll find groups of friends picnicing and little kids pushing adults on the flying fox, new friends being made in the sand pit and old friends catching up in the shade of the avenue of trees that are rapidly growing.

While we know that people love Livvi's Place Ryde, we want to shout it from the roof tops. A great way you can help us to make our voice heard and advocate for more inclusive playspaces it to vote for Livvi's Place in the Sydney Morning Herald Premier's People's Choice Award for 2013. They are asking you to choose your favourite piece of public space... and if you have a spare 10 seconds now, we would be very grateful for your vote!

Click on the happy kids spinning the day away at Livvi's Place to go to the poll.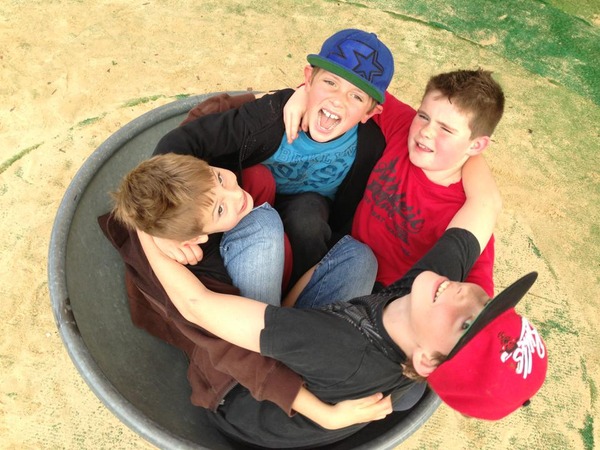 Thanks in advance for helping us bring more inclusive playspaces to life.
---
Why Livvi's Place is the People's Choice
From a Carer:


I work with people who have disabilities and challenging behaviors and Livvi's Place is great! Sadly there are never enough places for a person to feel included.

From a Mum:

Dylan is nearly 2 years old and has a neurological condition called Chiari Malformation. Basically, this means that his cerebellum is descending into his spinal cord, which in turn is restricting the flow of spinal fluid around his brain and increasing the pressure in his head. As the cerebellum is responsible for things like motor skills, balance and coordination (and many others), this condition prevents Dylan from doing many of the things a regular 2 year old should be doing. He doesn't have the ability to run or climb or crawl through tunnels. Just walking without holding on to anything requires a lot of focus and concentration and often results in lots of falls.

There's not much that Dylan can do at a regular playground. He can't climb up on the equipment, or run around with his little friends. Occasionally there are small pieces of equipment that we can sit him on and sometimes there are activity walls with spinning toys located at ground level. Most of the time a trip to the park will involve one of us climbing on and through the equipment lifting Dylan up and down and over everything. This can get tricky when there are a lot of kids around. Whilst it is a good weight lifting session for us, it's not very beneficial for Dylan.

Livvi's Place Ryde enables Dylan to interact with other kids and really get out there and work on his motor skills and social interaction, without being in a controlled therapy-like environment. The variety of activities at Dylan's height level encourage him to walk around and explore. He loves sitting in the big bouncy car, and gets very excited when other kids climb in to 'drive' with him, he even tries to talk (babble!) to them. He is so used to getting left behind and playing on his own because he can't keep up with the other kids, that he gets extremely excited when another child comes to play with or near him. The sandpit has been a fantastic way to work on Dylan's hand skills and coordination, and watching the other kids playing in the sand around him is also great way for him to learn. It's also a great way to work on his sensory issues without overloading him. I think the best thing for us is that the equipment is designed so that we can easily join in and play with Dylan, while still allowing him to have that independence to develop his motor and sensory skills. Dylan's favourite activities are the bouncy car, the swings and the nest swing. The flying fox (with mummy) is also a big hit!

It's true that laughter and play are the best therapies of all. An hour at Livvi's Place Ryde means a whole hour of smiles from Dylan!